Dispute Between 7th District and YouTuber Becomes a Criminal Case and a Civil Rights Lawsuit
James Springer has made a successful YouTube business confronting law enforcement and public officials in what are called "First Amendment Audits." His most recent video at the Estancia courthouse has led to criminal charges — and now he encourages his viewers to confront local law enforcement.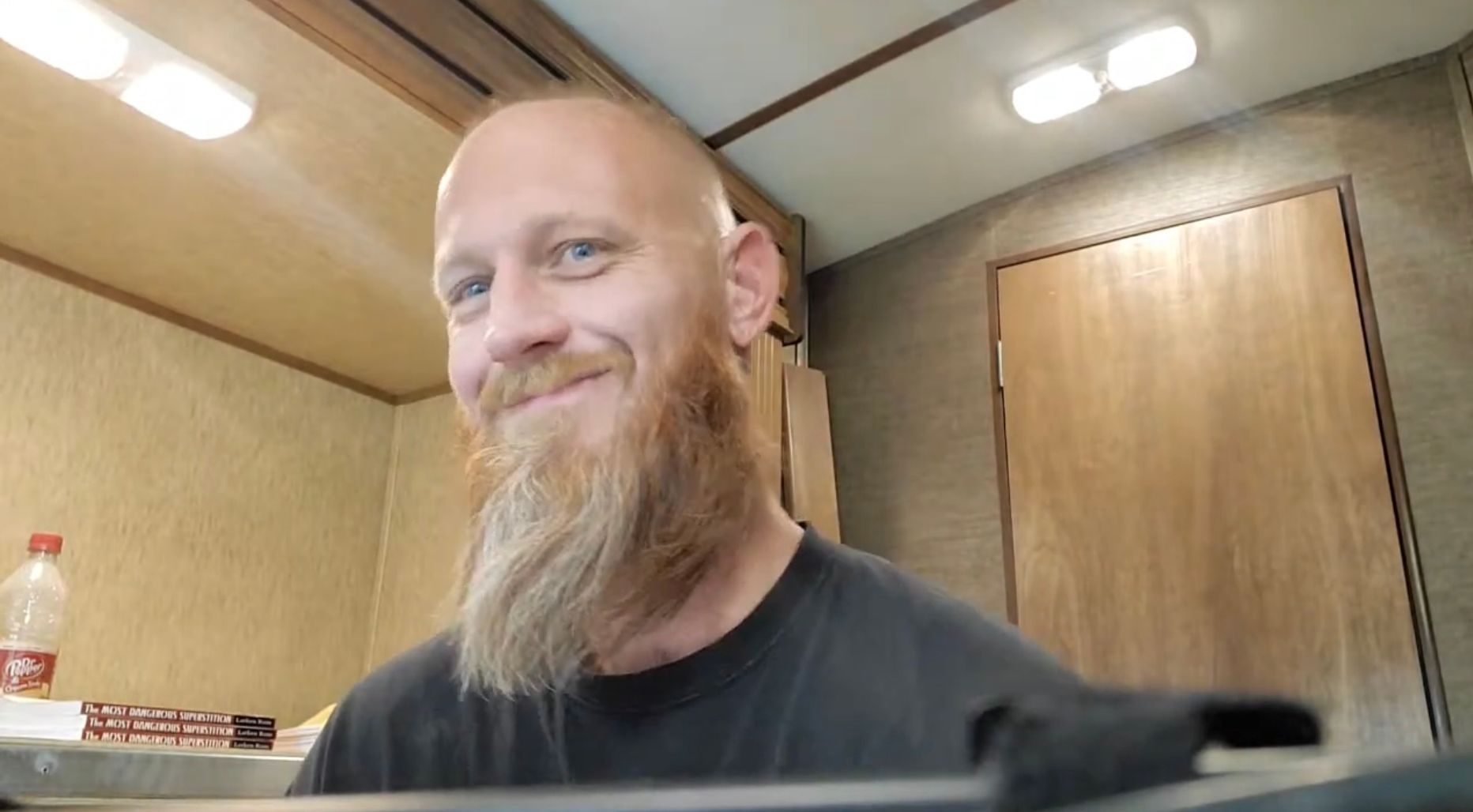 This article contains adult language and may not be suitable for some readers.
First Amendment Audits
James Freeman, a pseudonym used by YouTube content creator James Springer, has had numerous altercations with local law enforcement and public officials. The James Freeman channel is one of many on YouTube where individuals conduct what are known as First Amendment audits, recorded interactions typically with law enforcement.
On June 8, 2023, Springer engaged in a video-recorded interaction with court staff at the Neil Mertz Justice Complex of the New Mexico 7th Judicial District Courts in Estancia. Springer's interaction with court staff turned confrontational. Springer repeatedly referred to a female court staff member as a "bitch." Later in the video, two deputies of the Torrance County Sheriff's Office arrive, including one identified on video as Deputy Young. Springer tells Young that the deputy can "shove ... up [his] ass" a document that is apparently a court order limiting Springer's interactions with court personnel. When Springer leaves the courthouse, he claims he is frightened for his "life and liberty." He then pauses, and turns back to engage further with Deputy Young, eventually yelling, "You're fucked, son!"
Contempt of Court and Federal Claims
On June 9, 2023, Springer announced on his YouTube channel that the Chief Judge of the 7th District, Hon. Mercedes Murphy, had paperwork served upon Springer compelling him to appear for a June 16, 2023 hearing to determine whether Springer would be held in contempt of court for his conduct. (The Mountainair Dispatch has requested this paperwork, most likely an Order to Show Cause, under New Mexico's "Inspection of Public Records Act," or "IPRA.")
Springer's dispute with the 7th District has spilled over to other jurisdictions as well. On June 9, 2023, Springer's attorneys, A. Blair Dunn, Esq., and Jared R. Vander Dussen, Esq., of Western Agricultural Resource and Business Advocates, LLP, and Zach Cook, Esq., of Zach Cook, LLC, filed a complaint in the US District Court for the District of New Mexico against the 7th District, Judge Murphy, 7th District Judge Shannon Murdock-Poff, Court Manager Susan Rossignol, and Court Administrator Jason Jones, making the following allegations:
Springer's rights under the 1st Amendment to the US Constitution and under 42 USC § 1983 (commonly known as the Civil Rights Act of 1871) were violated when the 7th Judicial District engaged in "viewpoint discrimination" by banning him from public hearings and public parts of the Justice Complex;
Springer's rights under the Due Process Clause of the 14th Amendment and, again, the Civil Rights Act of 1871 were violated when he was allegedly banned from public hearings and public portions of the Justice Complex;
Springer's rights under those same Constitutional laws mentioned above were violated because the 7th District did not give him the opportunity to be heard regarding the propriety of his alleged bans; and,
Springer's rights under Article II, Section 17, of the New Mexico Constitution (which addresses free speech and libel) were violated when he was allegedly subjected to the previously-mentioned bans.
Springer is seeking a declaratory judgment that the Seventh District violated his constitutional rights, injunctive relief blocking the 7th District from barring Springer from "any public space or hearing...," so-called "actual damages" (so called because they are the cash equivalent of what a judge or jury believes is the actual injury to a plaintiff, as opposed to damages that are punitive in nature), and attorney's fees and costs.
A review of PACER, the scheduling and document management software-as-a-service (SaaS) used by the US Federal Court System, shows no date set yet in the District of New Mexico for a hearing on the injunctive relief sought by Springer, although  Springer, the 7th District, and the court employees named as defendants have fourteen days to brief the US District Court on whether Springer's injunctive relief should be granted as part of a temporary restraining order. Because of the federal lawsuit, it is possible that the state contempt hearing would be postponed until after the resolution of the temporary restraining order request.
The State of the Law on First Amendment Audits
The US Courts have generally considered First Amendment Audits to be legal, notably in (chronologically) the First Circuit Court of Appeals ruling in Glik v. Cunniffe, 655 F.3d 78 (1st Cir. 2011), the Seventh Circuit Court of Appeals ruling in ACLU of Illinois v. Alvarez, No. 11-1286 (7th Cir. 2012), the Fifth Circuit Court of Appeals ruling in Turner v. Driver, 16-10312 (5th Cir. 2017), and Irizarry v. Yehia, 38 F.4th 1282 (10th Cir. 2022) (along with other cases in the Ninth and Eleventh Circuits). In Irizarry, the 10th Circuit (which has jurisdiction over federal cases coming out of New Mexico) ruled that there is a First Amendment right to record law enforcement, provided the person recording is doing so in a reasonable time, reasonable place, and reasonable manner. Irizarry is an important case, not merely because the defendant police officer in that case attempted to run over the journalist filming a DUI stop in Colorado. It is most important because it will likely most influence the decision of the US District Court for the District of New Mexico in Springer v. Seventh Judicial District Court. Likely, the outcome of this case will hinge on whether James Springer was acting in a reasonable manner when he filmed at the Neil Mertz Justice Complex.
A Mass Cop-Watch and Actual, Corrupt Pieces of Trash
Since filing the federal complaint and receiving the state order to show cause, Springer has invited via video his YouTube followers to attend the June 16, 2023 hearing, although he also acknowledged the possibility of that hearing being postponed due to his filing of the federal civil rights complaint. Springer stated in his video that, if the hearing is postponed, he would take his followers on what he described as a "mass cop-watch" in Albuquerque. As an enticement, Springer assured viewers that there would be high profile YouTube creators in attendance. In his video, Springer directs his followers to "not turn the town of Estancia upside down," but to focus their attention on the "actual, corrupt pieces of trash that are the judicial system."
Try to Get Him to Do Something
Springer asserted in his video that he wanted the Torrance County Sheriff's Office to press criminal charges against Susan Rossignol. He claimed that most of the local law enforcement and political officials are supporting him, specifying that he believed he was supported by the police department (presumably of Estancia), the Torrance County Sheriff's Office, and the New Mexico State Police. Springer then went on to identify by name two deputy sheriffs who he said were "a danger and a threat to liberty."
Springer said, in reference to one of the named law enforcement officers, that his followers should "try to get him to do something -- never mind," before smirking at the camera and waggling his eyebrows. Springer then said, "You guys know that when there's stupid cops, they'll do stupid things."
AR-15s and Hand Grenades
Springer advised viewers of his video that they could potentially camp out on court property. He said he would talk with Estancia Mayor Nathan Dial regarding this.  Dial, a former US Army Ranger, accompanied Springer in past videos, and his sister, Christina Estrada, was arrested for contempt of court at the 7th District's Moriarty Magistrate Court. One of Springer's audience members encouraged Springer to look at the county fairgrounds instead for camping. Soon after, another audience member, going by the username "King Harry" asked, "[C]an we bring AR15s [sic] or grenades?" While Springer did not respond to this comment, given the number of individuals in the livestream chat, it is not clear that he even saw this comment.