Continued Culture War over Masks Leads to Arrest and Contempt Charge
"She was being defiant and obstinate and disrespectful to the judge," Sheriff Frazee said of Estrada. "So I saw it with my own eyes. And so do I think she was contemptuous? Yes, I did. And he [Davis] found her in contempt. And I think it was the proper charge."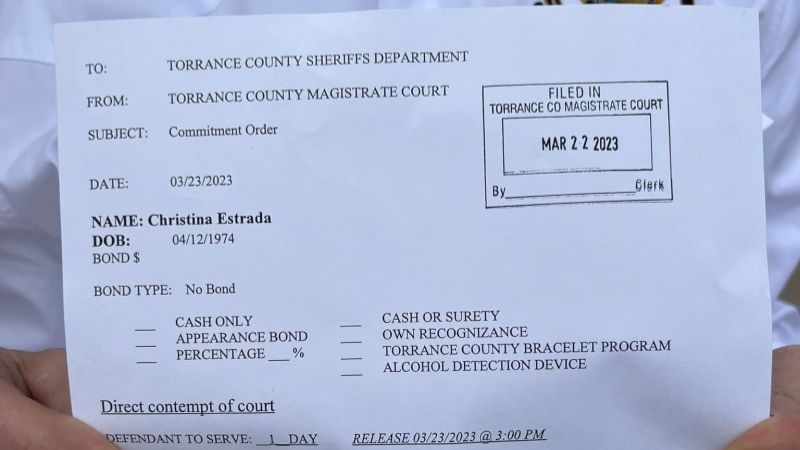 "What I saw? I showed up to the courthouse, walked in the courtroom about 12:30 [or] 12:45 [PM]. Talked to a few folks, because, you know, it's a small town. We kind of know everybody, so sure, you know, we're just sitting in the courtroom, not wearing masks…," Roy Hubbard explained how his mother, Christina Estrada, went from a witness in a planning and zoning enforcement case to being held in contempt of court on March 22, 2023. Hubbard is the chairperson of the Torrance County Republican Party. Hubbard continued, explaining that a member of court staff entered the courtroom at approximately 1:00 PM and approached Estrada, telling her that there was a mask mandate in the Moriarty magistrate courthouse "at the discretion of the judge." After his March 24, 2023 interview, Hubbard explained that his mother had declined an invitation to be interviewed based on advice from her attorney.
According to Sheriff David Frazee, the mask mandate Hubbard is describing is an order of the New Mexico Supreme Court. Specifically, Hubbard is referring to "Emergency Protocol No. 1," first codified as Supreme Court Order No. 20-8500-002 (PDF). Over the course of the COVID-19 pandemic, the New Mexico Supreme Court has added additional orders addressing matters like temperature screenings, probate cases, and witness testimony. In December 2022, the New Mexico Supreme Court entered Order No. 22-8500-037 (PDF), which reiterated the mask requirements issued in 2020, albeit with exceptions for young children, witnesses (at the discretion of the trial judge), those with written proof that a health care provider advised against wearing a mask, and the unconscious (one might think that the lack of consciousness presents bigger concerns than the wearing of a mask). Order No. 22-8500-037 states that "[the] use of a protective face covering that covers the nose and mouth shall be required by any member of the public, including jurors, witnesses, parties, attorneys, sheriffs, and other participants while in a courtroom or… other physical space used… as a courtroom or jury assembly area by the New Mexico Judiciary…."
Hubbard said that the court staffer told his mother - who is also the sister of Estancia mayor Nathan Dial - that Estrada and her family needed to put on masks and engage in social distancing. Hubbard said his mother questioned why she had to put the mask on. According to Hubbard, the court staffer told her she could put on a mask and stay in the courtroom, or step out into the lobby if she was not going to wear a mask. Estrada opted to leave the courtroom. When she returned, Hubbard said, she was carrying a face mask and the judge - Magistrate Craig Davis, elected in 2022 - told her that she had to wear her mask.  
Hubbard explained that his mother responded, "Your signs don't say that I have to put it on my face." Magistrate Davis and Estrada argued back and forth regarding the mask, with the magistrate threatening to charge Estrada with trespassing. "And then, the next thing I know, I find out my mother has been arrested for direct criminal contempt," Hubbard said.
With regard to the trespassing charge, this would likely be unconstitutional, as the Moriarty magistrate courthouse is a public building. "Yeah, that's something," Sheriff Frazee responded to the constitutional question, "Anyway, our lieutenant went over to the judge and said, 'Ah, maybe, maybe this is not the right charge. Maybe you shouldn't do that."
According to Sheriff Frazee, deputies took Estrada back to the secure portion of the courthouse, where she was chatting cordially with deputies near the holding cells. "She's standing there talking to us. Not in handcuffs. We're all just visiting because we all know each other."
On Facebook, members of the Republican Party of Torrance County Facebook group circulated a photo of the magistrate's contempt order. Conspicuously, the order is being held by someone whose head is not visible, but they are clearly wearing a Torrance County Sheriff's Office uniform. "I had the order in my hand," Sheriff Frazee said, "And when we went outside, they were putting her in the patrol car, that her brother - the one that called me was Nathan [Dial, mayor of Estancia], he was out there. And I asked him, do you want to take a picture of this order? For [her] benefit? Maybe he wanted a picture? … And that's when, that's getting posted on the internet."
The members of the Republican Party of Torrance County Facebook group argued about the significance of Estrada's arrest in the comments section of the post displaying the magistrate's order. "Craig Davis and [David] Frazee both ran their campaigns on No [sic] mask mandates and yet here they go…," wrote Nina Harrison.
Stephen Garrett is another member of the Republican Party of Torrance County Facebook group that discussed the contempt order. His profile picture is a black-and-yellow flag inspired by the Gadsden Flag, around which is superimposed phrasing, including "MY BODY… MY CHOICE." Garrett wrote that he believed that Magistrate Davis would have been removed from the bench if he did not enforce the New Mexico Supreme Court's mask mandate. Lillian Hernandez wrote, "very sad and disappointing situation. We elected these officials to be constitutional elects. [Sic.] Turns out we were wrong."
In a post that includes a press release from the New Mexico Administrative Office of the Courts regarding the continued need for masks in the courtroom, Lonnie Freyburger asked, "So is the Republican Party stating we should disobey this? Or that our elected officials in the judicial system ignore [it]? If so and someone is arrested for contempt, will the Republican Party of Torrance County pay for legal fees? Is this order in effect?"
Roy Hubbard posted a press release he drafted on behalf of the Republican Party of Torrance County. The press release criticizes Magistrate Davis for holding Estrada in contempt and Sheriff Frazee for enforcing the contempt order. The press release does not state that Estrada was the person arrested, nor does it mention Hubbard's family relationship to Estrada. "It is our duty as a Political Organization to make sure our elected officials are held accountable for their actions, words, and demeanor as they are employed by the public. The Torrance County Republican Party will not support those who disregard our constitutional rights and freedom of speech."

Hubbard said he was contacted by a representative of the New Mexico Republican Party, who advised him they thought the mask mandate did not exist. As noted above, the New Mexico Supreme Court has reiterated the mask mandate in December 2022.
Hubbard later learned that Estrada was taken to the Torrance County Jail facility at the CoreCivic detention center, where she was released within approximately an hour.
"She was being defiant and obstinate and disrespectful to the judge," Sheriff Frazee said of Estrada. "So I saw it with my own eyes. And so do I think she was contemptuous? Yes, I did. And he [Davis] found her in contempt. And I think it was the proper charge."