Severe Weather Statement for Torrance County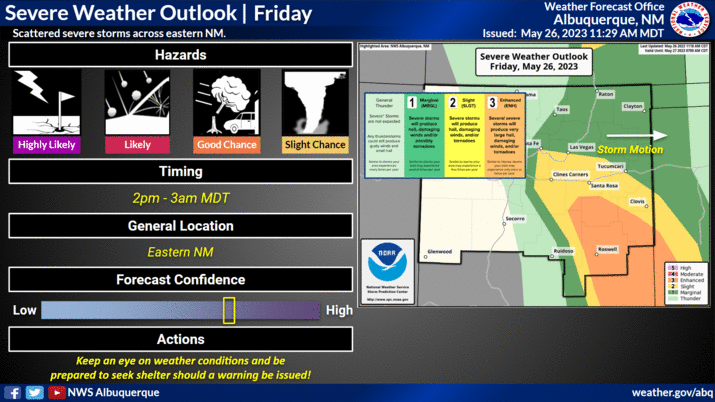 NOAA just issued the following severe weather statement at 13:26 MDT.
000 WWUS55 KABQ 261926 SVSABQ Severe Weather StatementNational Weather Service Albuquerque NM126 PM MDT Fri May 26 2023 NMC001-049-057-262015- /O.CON.KABQ.SV.W.0091.000000T0000Z-230526T2015Z/ Santa Fe-Bernalillo-Torrance- 126 PM MDT Fri May 26 2023 ...
A SEVERE THUNDERSTORM WARNING REMAINS IN EFFECT UNTIL 215 PM MDT FOR SOUTHWESTERN SANTA FE...
BERNALILLO AND NORTHWESTERN TORRANCE COUNTIES...
At 125 PM MDT, a severe thunderstorm was located over Chilili, or 10 miles southwest of Moriarty, moving northeast at 20 mph.
HAZARD...Two inch hail and 60 mph wind gusts.
SOURCE...Radar indicated.
IMPACT...People and animals outdoors will be injured. Expect hail damage to roofs, siding, windows, and vehicles. Expect wind damage to roofs, siding, and trees.
Locations impacted include... Edgewood, Moriarty, Chilili, Escabosa, Ponderosa Pines and Miera. This includes Interstate 40 between Mile Markers 184 and 197.
PRECAUTIONARY/PREPAREDNESS ACTIONS... For your protection move to an interior room on the lowest floor of a building. This is a dangerous storm. Prepare immediately for large destructive hail capable of producing significant damage. People outside should move to a shelter, inside a strong building and away from windows. &&
LAT...LON 3479 10620 3485 10640 3509 10628 3507 10596
TIME...MOT...LOC 1925Z 228DEG 18KT 3492 10619
THUNDERSTORM DAMAGE THREAT...
CONSIDERABLE HAIL THREAT...
OBSERVED MAX HAIL SIZE...2.00 IN