Police Records Show Additional Criminal Incidents For Ernie Lopez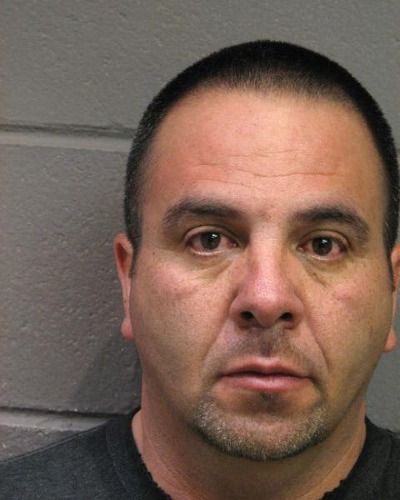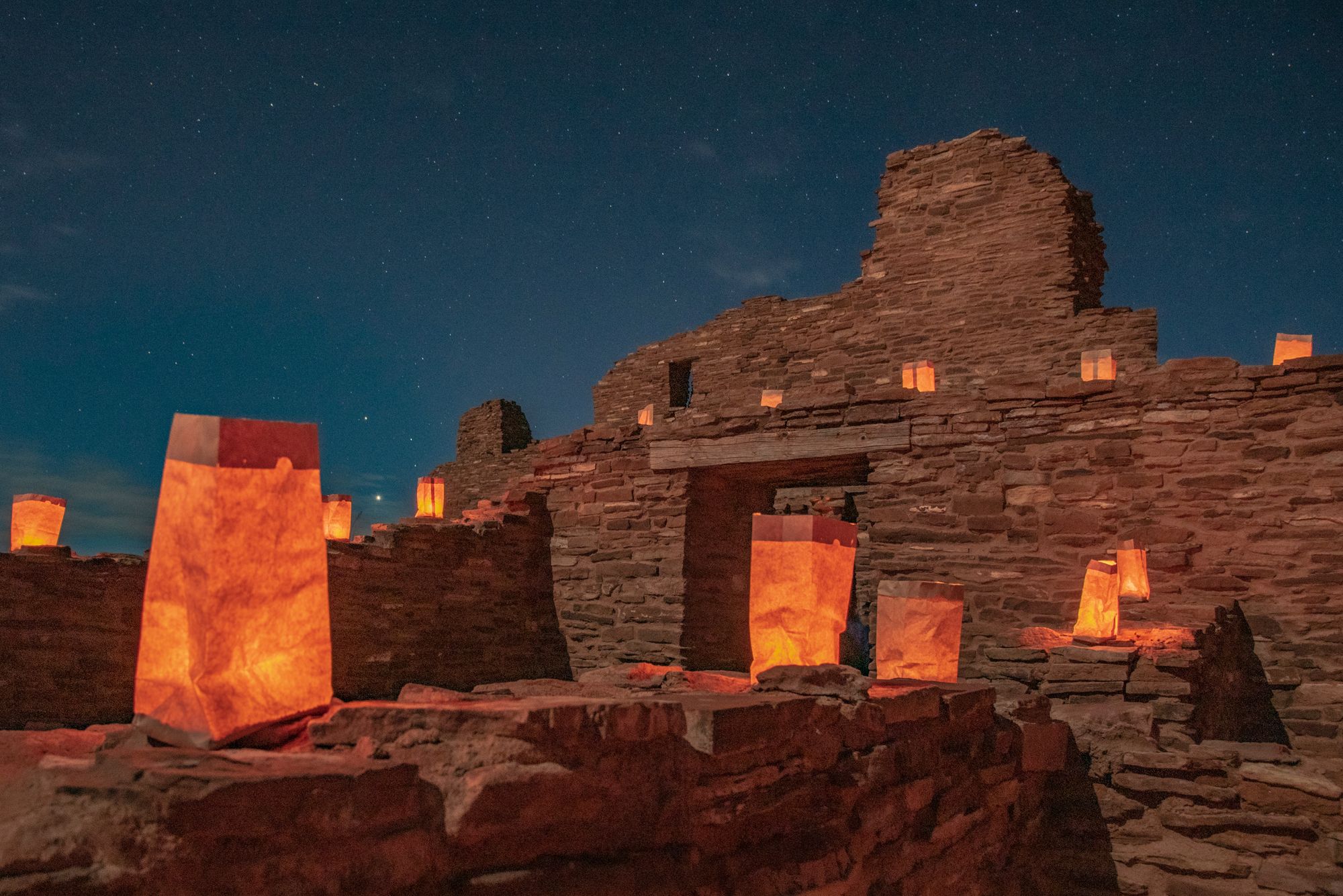 🕯️
This month's content sponsor is the Friends of Salinas Pueblo Missions, who invite you to join them for the annual Luminaria de Abó on December 2, 2023. This will be a magical evening with flickering luminaria amongst the historical ruins of the San Gregorio de Abó Mission. There will be a Roman Catholic mass at 4:00 PM, followed by a
posada
, a traditional reenactment of the Holy Family's search for lodging practiced in Mexico and Latin America since 1586. The public will be able to tour the grounds of the ruins amidst the flickering luminaria beginning at 5:30 PM, and there will be refreshments for all ages and piñatas for the children. This will be the largest luminaria event in Central New Mexico. For more information, please click
this link
, visit the
Friends of Salinas Pueblo Missions website
, or go to the Friends of Salinas Pueblo Missions
Facebook page
.
Since the publication of the article A History of Violence and Financial Troubles, the Mountainair Dispatch has obtained additional information regarding Mountainair Councilmember Ernie Lopez's (Lopez is running for reelection) interaction with law enforcement. These records show two incidents in which police responded to Lopez's actions.
At the October 21, 2023, town council meeting, Lopez responded to the previous article regarding his legal and financial troubles by confirming he had been arrested for driving while intoxicated and that he had sought discharge of his debts and obligations under Chapter 7 of the US Bankruptcy Code. Lopez denied engaging in violent misconduct. In the audience at this town council meeting, municipal judge candidate Carlos McMahon referred to a document not shared with the Dispatch that he contended supported Lopez's claims.
A 2016 Altercation with His Daughter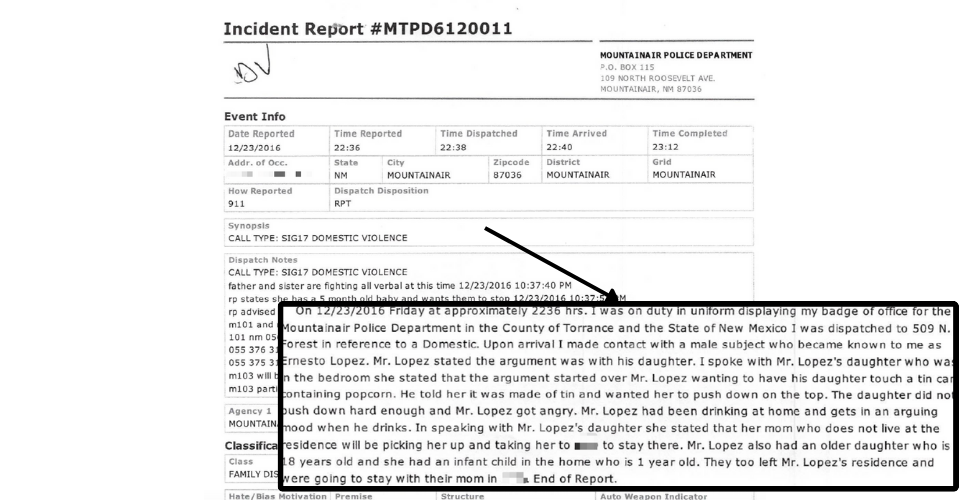 Mountainair police records show that police were called to Lopez's residence on December 23, 2016, for an altercation Lopez had with his youngest daughter while he was intoxicated. According to a police narrative written by Patrol Officer Alfredo Turrieta, Lopez was angry at his youngest daughter for failing to close a popcorn tin fully. The daughter reported to Turrieta that Lopez "had been drinking at home and gets in an arguing mood when he drinks." Turrieta wrote that Lopez's two daughters and infant granddaughter were picked up by their mother and taken from the home.
Under NMSA § 40-13-2(C), domestic violence includes non-physical conduct, such as "severe emotional distress" and "threatened harm to children." No further information is currently available regarding why this matter was not referred for prosecution.
A 2020 Altercation on the Streets of Mountainair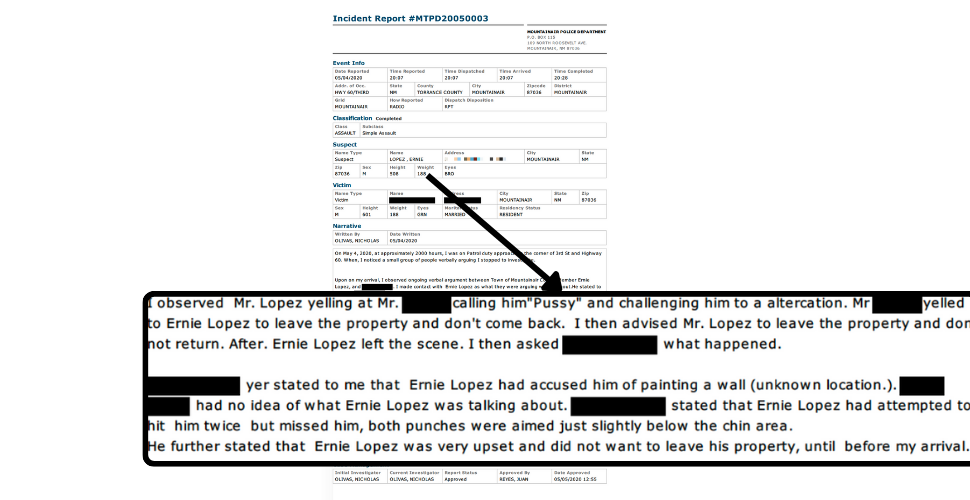 Mountainair Police Officer Nicholas Olivas reported that, on May 4, 2020, he observed Lopez arguing with a small group of people at the corner of 3rd Street and US-60 in Mountainair. When Olivas interacted with the group, he witnessed Lopez calling a victim a "pussy" and challenging the victim to a fight. (The Town of Mountainair redacted the identity of this victim.) The victim told Lopez to leave the victim's property and not return. Officer Olivas had Lopez leave, after which he interviewed the victim more fully. According to the victim, Lopez had attempted to punch him twice but failed to connect. Under NMSA § 30-3-1(A), Lopez's behavior would constitute "an attempt to commit a battery upon the person of another," assuming the facts of the victim's statement to be true, and would therefore be considered misdemeanor assault. Olivas stated at the end of his report that Mountainair Police Chief Reyes directed him to file a report. Olivas wrote that Reyes told him he would advise Mayor Peter Nieto regarding the situation. It does not appear this matter was prosecuted.
The Mountainair Dispatch contacted Lopez on November 2, 2023, asking if he would like to confirm, deny, explain, or rebut these allegations. He did not respond.
Please consider subscribing to the Mountainair Dispatch. Your support helps cover the costs of reporting like this.